Mother's Day Cookie Cutter 3 pc Set C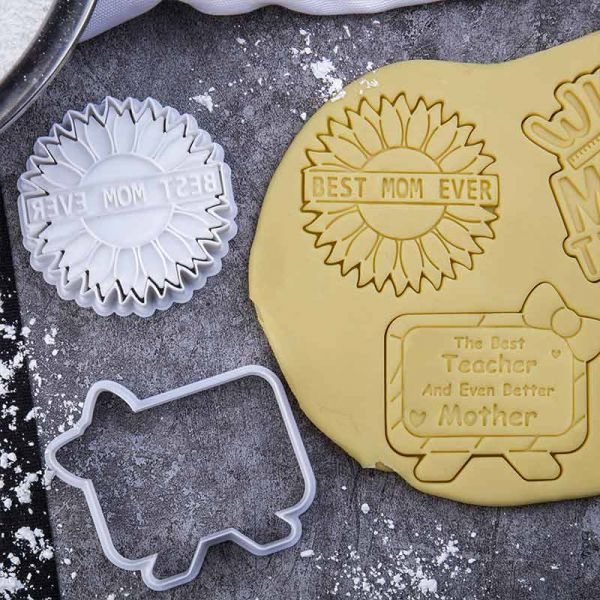 Mother's Day Cookie Cutter 3 pc Set C
Let your mother feel the love on her special day as you dedicate cookie treats just for her.
These light-weight and durable cookie cutters all have a detailed stamp so you can easily personalize your cookie treats.
Size: 3"
Color: White.
Material: Food Safe PLA!
Technique: 3D Printing.
Includes: Teacher Mom Plaque,Best Mom Ever Sunflower,Black Board with Wishes Cookie Cutter.
From our customers
The cookie cutters and embossers are amazing! They come in clear snap-closure boxes for storage. Very nice! Thank you!
Quality product. I made birthday cookies for our 6 year old granddaughter and she loved them, saying "They're so pretty!"
Excellent, especially with the interior ribbings to help you decorate. My grandkids loved it! I cut a tiny heart and stuck it to the center for Valentines Day.
Honestly the cookie cutter came so fast in the mail I was surprised by it. When opening it I found the packaging to be really awesome and well taken care of. It was much bigger then I had thought, which is perfectly okay by me I love cookies! Quality of the cookie cutter was up to par and also so cute! I hope to take my cookies to outer space with this product. I would recommend this shop and it products to someone looking for cookie cutters.
Flycalf never disappoints. I've ordered several other cutters from them and they are very sturdy, very detailed and very cute. I love them all and I can't wait to use them. Thank you for the great service and the beautiful wrapping. I'll definitely shop here again.